Recently, I've been reading from the "war chapters," found in the book of
Alma
in the
Book of Mormon
.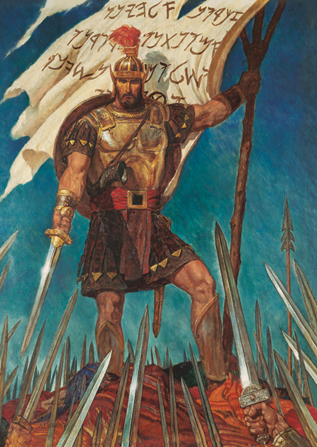 Read about Moroni and the "title of liberty" he raised:
"In memory of our God, our religion, and freedom, and our peace, our wives, and our children"
In the Church of Jesus Christ of Latter-day Saints,
we witness
that "[the Book of Mormon] does not merely claim to be a moral treatise or theological commentary or collection of insightful writings. It claims to be the word of God—every sentence, every verse, every page."
If every part of this book claims to be the word of God, why is there so much discussion of war, in general and, occasionally, certain wars, in particular? I did some research, this morning, and found an
article from Richard Dilworth Rust
, addressing the topic. Here is an excerpt:
Who will fight the battles for the "true worshipers of Christ"? Ultimately, God: "I will show unto them that fight against my word and against my people, who are of the house of Israel, that I am God, and that I covenanted with Abraham that I would remember his seed forever" (2 Nephi 29:14).
What, then, does the Book of Mormon do concerning this latter-day warfare? It shows the fundamental nature of the battle and gives hope to the Lord's people. With accounts of the victories of small minorities against overwhelming odds (often with no lives of the righteous being lost) or of escapes from their enemies (as with the people of Lehi, Nephi, Mosiah, Alma the elder, and Limhi), it confirms the truth . . ., "God will provide strength for the righteous and the means of escape."
I strongly suggest you read the
full article
(pretty quick read, maybe 5-10 minutes). I think you'll really enjoy it.
Let me add some likely duplicative insights of my own: Rarely does the Book of Mormon give a blow-by-blow description of things such as army formations or granular tactics in battles or wars. Instead, they are almost always spoken of in generalities and illustrate the power of God in delivering His people. As the book's first prophet-writer explained of his own purpose in writing, "I, Nephi, will show unto you that the tender mercies of the Lord are over all those whom he hath chosen, because of their faith, to make them mighty even unto the power of deliverance."
1 Nephi 1:20
. I believe the prophet-historian-abridger Mormon and other writers often illustrate this concept and promise in the Book of Mormon through examples of war.
Let me conclude by adding my witness that the Book of Mormon is what it claims to be. It is the word of God, "every sentence, every verse, every page." I know this is true because I have received confirmation of it from the quiet assurances of the Holy Spirit, and
so can all who sincerely ask
.