I'm so happy to have a three day weekend! Going to work everyday, it's always a joy to be home with my wife and sweet daughter as often as I can.
This morning, my wife was wiped out and implored me, with a half-asleep gaze, "Can you take care of our daughter?"
And so I did. While feeding the princess, I put on a CES (Church Educational System) Fireside (or talk) given by Elder David A. Bednar, of the Quorum of the Twelve Apostles, on May 3.
The talk is entitled,
Things as They Really Are
and can be found
here
.
The essence of the message was that we should not idle away our time on counterfeit realities such as SecondLife (and to much expected outrage, I would add, FaceBook . . .) and online video games when such "virtual" realities can often be so dangerous.
Indeed, it is truly a blessing to be with a
real
wife and a
real
daughter whom I can love and
hold
on a daily basis.
What is truth? Amazingly enough, after watching this discourse, I set about my daily scripture study in the Book of Mormon and read over the following verse in
Jacob 4
. Preaching about the far distant (over 500 years) coming of Jesus Christ, Jacob said:
Behold, my brethren, he that prophesieth, let him prophesy to the understanding of men; for the Spirit speaketh the truth and lieth not. Wherefore, it

speaketh of things as they really are, and of things as they really will be

; wherefore, these things are manifested unto us plainly, for the salvation of our souls. But behold, we are not witnesses alone in these things; for God also spake them unto prophets of old.
In other words, Jacob knew of the coming of Christ so many hundreds of years prior to His coming, because the Spirit testified of what would
really
be. In like manner, Jacob notes, countless other prophets had learned of Christ before him.
What an intriguing connection. The Truth of life is that Jesus Christ is the Savior and Redeemer of all mankind. This is "the Truth, the Life, and the Way" and "there is none other way nor name given under heaven whereby man can be saved in the kingdom of God" (
this link
contains both).
Yesterday afternoon, I was reading an article (which a friend highly recommend and insisted that I read all of what felt like 500 pages) in
the Atlantic
entitled
What Makes Us Happy?
. To be short in writing, and to save
you
the hours of reading it . . . I'll just say it's really depressing and essentially leaves the reader feeling like there is no true "formula" or answer and that life is really just a meaningless waste.
Whatever.
For me, this was a clear example of a scripture that reads, "Cursed is he that putteth his trust in man, or maketh flesh his arm, or shall hearken unto the precepts of men, save their precepts shall be given by the power of the Holy Ghost" (
click here
for three more citations).
There is so much in "science" and the knowledge of man which explains so little and, ultimately, cannot explain the
simple
truths of God.
Instead of complicated ink blots and 80-year-long, indeterminate studies, the Lord gives us plain and simple truths. While I do not disapprove of science and reason, I know they will never produce such concise statements of reality as the following.
"For behold, this is my work and my glory—to bring to pass the immortality and eternal life of man" (
Moses 1:39
).
"Adam fell that men might be; and men are, that they might have joy" (
2 Ne. 2: 25
).
I'll tell you the secret to happiness in a few short words: Believe in (which means
follow
Him and
do
what He teaches) Jesus Christ. That's it.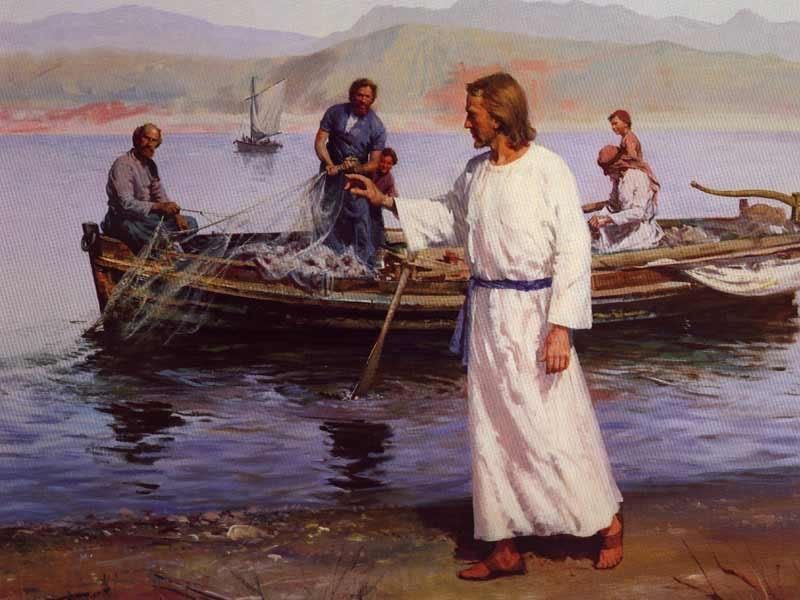 We are here to become like our Heavenly Father and Jesus Christ, if we will but keep their commandments, we shall become like them and "the truth shall make [us] free" (
John 8: 32
).
"And this is life eternal [
or living and becoming like God
], that they might know thee the only true God, and Jesus Christ, whom thou hast sent" (
John 17: 3
).
This has been a marvelous discussion for me on Memorial Day, a day in which to rejoice in the sacrifice of others for
our freedom
.
Let us remember that the truth (or things as they really are) is that Jesus Christ was and is the ultimate Sacrifice for the freedom of all men. As Elder Holland taught so beautifully just two months ago (
text
video
), only He could walk that road, and He did it alone!
I testify that Jesus is the Christ, the source of all happiness, light, and truth. I encourage you to find
true happiness
in and through Him, by keeping His commandments.
Find more at
Mormon Messages
on YouTube.
HAPPY MEMORIAL DAY!