I am particularly impressed that this message was given
17
years ago (or in 1993, which, in my opinion, was at least three or four years before even
the
Internet took off - let alone broadband, smart phones, Google, Facebook, Twitter, etc.).
Here is the full text of the message:
http://speeches.byu.edu/reader/reader.php?id=7706
Indeed, moral values and religious values, in general, are coming under attack more and more. They are seen as old fashioned, outdated, juvenile, or even as stemming from "
neurological disorder
."
We live in a constant monsoon of information. Yet, in this "information age," I feel like many of us are "Ever learning and never able to come to a knowledge of the truth" (
2 Timothy 3: 7
).
The most important truth I know of is that we are literally sons and daughters of a
loving Heavenly Father
, God.
To me, it is a simple and sublime truth.
On the other hand, how many in this world know or believe this
plain and precious truth
? Put another way, how many deride it as childish, foolish, or illogical, and so
put their trust in the arm of the flesh
, ever learning and never able to come to a knowledge that God is our Father (the truth)?
This
true
disorder
(or state of confusion), is much like the people at the time of Christ: They ever clamored for things they could not understand (think Stephen Hawking), and so "look[ed] beyond the mark" of their true Messiah, Jesus Christ (See
Jacob 4: 14
).
I know and testify that
Jesus is the living Christ
, the Son of the living God. I know that we are all sons and daughters of God and can become like Him if we will
follow the voice of the Spirit
.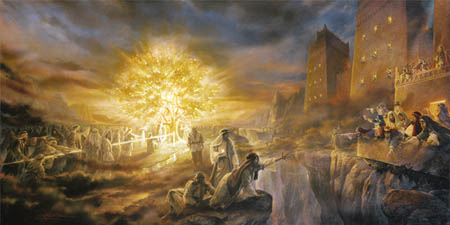 How do I know these things? By the same way all of God's prophets learned truth: by the
voice of the Spirit
(See
1 Nephi 22: 2
;
Moroni 10: 5
;
Jacob 4: 13
;
Alma 5: 45-46
; see also
Guide to the Scriptures, Holy Ghost
).